Session Border Controllers
A session border controller is a device used in some Voice over Internet Protocol (VoIP) networks to exert control over the signaling and usually also the media streams involved in setting up, conducting, and tearing down telephone calls or other interactive media communications.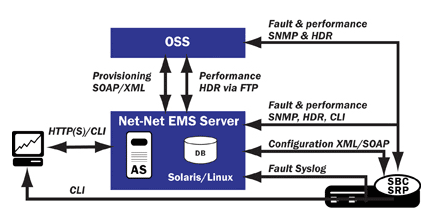 Within the context of VoIP, the term session refers to a call. Each call consists of one or more call signaling message exchanges that control the call, and one or more call media streams which carry the call's audio, video, or other data along with information of call statistics and quality. Together, these streams make up a session. It is the job of a session border controller to exert influence over the data flows of sessions.
The term border refers to a point of demarcation between one part of a network and another. As a simple example, at the edge of a corporate network, a firewall demarcates the local network (inside the corporation) from the rest of the Internet (outside the corporation). A more complex example is that of a large corporation where different departments have security needs for each location and perhaps for each kind of data. In this case, filtering routers or other network elements are used to control the flow of data streams. It is the job of a session border controller to assist policy administrators in managing the flow of session data across these borders.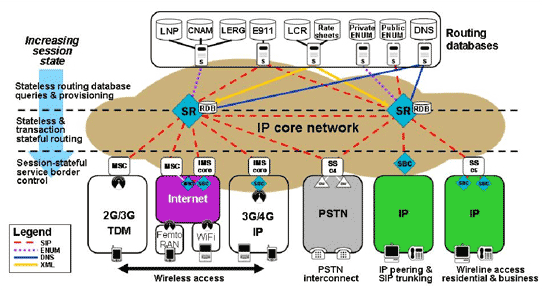 The term controller refers to the influence that session border controllers have on the data streams that comprise Sessions, as they traverse borders between one part of a network and another. Additionally, session border controllers often provide measurement, access control, and data conversion facilities for the calls they control.
InPhonex Telecom utilizes multiple Acme Packet Session Border Controllers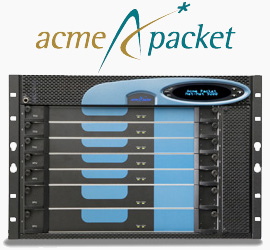 System capacity, performance and availability
Acme Packet Net-Net 9000 satisfies high-end border requirements in terms of capacity, performance and availability:
Media capacity – up to 32,000 or 128,000 media sessions* w/hardware-based QoS reporting, capacity based upon network processing unit option
IPsec tunnel capacity - up to 500,000 tunnels based number of active network interface units
Two-level encryption acceleration hardware - IPsec tunnel and TLS session set-up, IPsec and SRTP traffic encyption/decryption
Local route table capacity - 1 or 2 million routes based upon memory capacity
System throughput - 5 Gbps or 10 Gbps, throughput based upon network processing unit option
Transcoding and transrating capacity - up to 16,000 calls in SBC configuration
Wireline codecs : G711 a-law & mu-law, G.729 A/B, G.729 E, G.723.1, G.726, G.728, iLBC
Wireless codecs: AMR, AMR-WB, GSM EFR, GSM FR, EVRC, SMV
Fax: T.38, G.711
Network interfaces – up to eight active 1 Gbps Ethernet interfaces (fiber or copper), fully-redundant with optional in-line, wire-speed hardware acceleration module for IPsec and SRTP encryption/decryption; or sixteen active 10/100 Mbps Ethernet interfaces
Management

Interfaces – 3 dedicated 10/100 Mbps Ethernet interfaces, one RS-232 serial console interface, one alarm interface and PCMCIA slot
Performance - dedicated CPUs for management and related services - SNMP, RADIUS, etc.

High-availability –100% hardware redundancy in chassis with check-pointing of signaling, media, IPsec tunnel & configuration state for no loss of service

1:1 redundancy for SPU, NPU, NIU and MIU
1:2 redundancy for TCU

Packaging – 7U rack-mount system
*Net-Net 9000 performance and capacity vary by signaling protocol, call flow, codec, configuration and feature usage.
Media Release (also referred to as Anti-Tromboning or Anti-Hairpinning) is a feature employed in Voice over IP networks that optimizes the use of the access network. A Session Border Controller handling calls as they pass from the Access Network to the Core Network can examine the IP Address of both the caller and called parties and if they reside in the same part of the network the media path can be "released" allowing media to flow directly between the two parties without entering the access network. The benefits of this action are twofold: 1) the Caller is not paying for any bandwidth usage on the carrier network (but may be arbitrarily paying for the carrier's handoff service) and 2) The carrier's network is less congested.

In mobile networks servicing a large number of geographically dense peers, any two peers who wish to communicate between one-another may exchange their media data through a separate path that exploits localized and lower-power transmission, as a form of sub-band signaling. This extends into situations where bulk data can be sent over a less reliable but higher bandwidth capacity and cheaper cost/latency link, whilst parity data for reconstructing bad packets or supporting determinacy in fuzzy-state weakly determined data can be sent over more reliable but lower bandwidth capacity and expensive cost/latency link.
The session and control data can be completely decentralized, removing the Tromboned line altogether, under a suitable Multiple-input Multiple-output MIMO network system. In this case, the aggregate media and session control data may be distributed across the network in a dynamic best-possible solution form that meets the link criteria of both the individual peer and the constraints of the network infrastructure (other peers, basestations, etc.), which may vary between each individual peers.
Using session border controllers in and among networks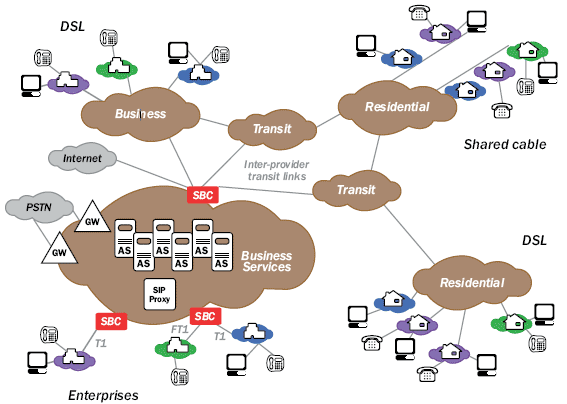 Interactive communications on IP networks - How it Works