Enterprises
Effective collaboration is essential for the success of every enterprise. Many critical collaboration tools, like email and other data-intensive applications, have been consolidated efficiently. Voice applications, while accounting for a significant percentage of per-employee spending, have not been consolidated to the degree currently possible. Many enterprises still maintain costly traditional telecom trunks and lines. These facilities are chronically underutilized – by design. Even those enterprises that have adopted VoIP continue to retain inefficient on-premises phone systems, multiple service-provider relationships, high call-termination rates, and the accompanying increased complexity and support costs. The result of this situation is reduced profitability, efficiency, and productivity.
The reason that most enterprises are in this situation is that they have not consolidated their voice applications using the same proven approach as with their data applications. This is somewhat ironic given the now commonplace observation that voice is data. Most large service providers are dependent for their survival on the continued use by enterprises of an inefficient approach to their voice applications. At the very least these service providers must try to prevent the adoption of an optimal approach by most of their customers for another several years. Enterprises have not yet embraced the full benefit of hosted VoIP technology which can deliver a complete solution. Many enterprise decision-makers are unaware of the opportunity to radically reduce costs – personnel costs, provider costs, and productivity costs – by taking the optimal approach to managing voice communications.

The solution for enterprises is to retire the traditional way of providing voice communications. The approach of the last hundred years is no longer optimal. VoIP is a first and important step – and it has had a big impact. The next step, to an Enterprise Communications Platform (ECP), can have a much greater impact.

ECP delivers substantial efficiency:
Removal of all legacy telecom lines and trunks. Only reliable data connectivity is required.
Elimination of all on-premise phone systems. Only low-cost IP endpoints need be maintained.
Reduction of service provider relationships – to one.
Simplification of features and functionality – every phone on every desk works the same way.
Consolidated tracking of all telecom usage and costs. Detailed reports can be automated. One bill to pay.
ECP increases profitability, productivity, and efficiency while increasing reliability. Even businesses that have deployed VoIP can expect to reduce telecom costs by 20-40% and to generate 2-3 times more savings in administrative, support, and training costs.

ECP allows an enterprise to benefit from voice communications without the requirement of owning and supporting equipment, maintaining excessive overcapacity, struggling with disparate, incompatible phone systems and features, staffing to manage service providers and their convoluted processes and bills, and having to manage and track the cost and complexity of all this.

ECP frees an organization's leadership to focus on revenue growth and other critical priorities. ECP is a competitive weapon.
Efficiency
ECP Administrative Panel provides complete, powerful, centralized control
Multiple permission levels
Ordering and provisioning services
Managing user accounts – moves, adds, and changes
Regulate costs by user, department, location, or division
Real-time, detailed reporting
Anywhere, anytime access to EAP
ECP tools reduce administrative workload
No local telcos to manage
No telco bills to decipher
Customized Dial Plan – for internal and external calling
Each office has a localized dial-plan
Unified, internal extensions across all locations worldwide
Cost Savings
Free in-network calling and conferencing
Centralized administration


Digital Voice is just the first step in revolutionizing enterprise voice communications. Now that voice is data, there is a proven approach to maximizing efficiency – ECP is the realization of that approach. Businesses that employ ECP can significantly increase revenue and efficiency. ECP can be implemented quickly and seamlessly. ECP is based on a proven approach. What's risky is to keep forking over money to providers peddling a hundred-year-old approach that serves their business model – not yours.
Centralized Account Management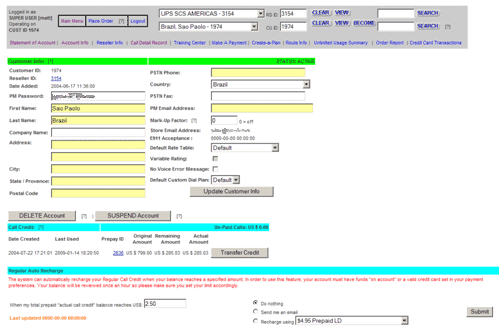 Access complete account controls and reports from anywhere
Tools to manage usage and costs at multiple permission levels
Order and provision services through a simple, powerful interface
Setup and modify custom dial plans to localize external calling and enable internal extension dialing across all locations
Map system permissions to current company policies
Real-Time Call Details
Monitor service usage anytime from anywhere
Retrieve and analyze inbound and outbound calls
Download call details into a database or to create advanced reports
Account-Level Control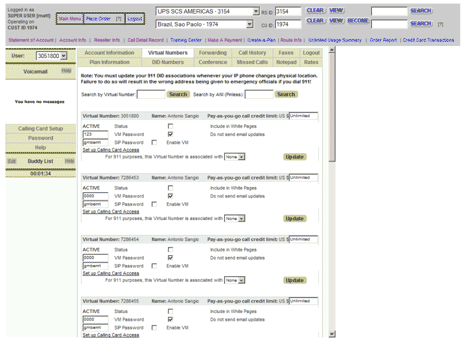 Pull up user-level controls from anywhere
Assist inexperienced users with common tasks: retrieving and resetting voicemail, forwarding calls, scheduling conference calls, and more
Setup calling card functionality
Fax-to-email
Modify account details including passwords